Heaters
Raypak Pool and Spa Heaters
Raypak offers a complete line of gas heaters to fit almost every application. Inside and out, the Raypak Digital is the result of over 50 years experience in the design, engineering and manufacturing of all types of residential and commercial pool, and water heaters.So dive in and take a look at the Raypak heater that can meet your exact needs.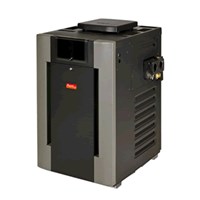 Filtration Systems for sparkling clear water
Pentair
By removing impurities such as dirt, leaves, grass, hair, body oils, sunscreen, and even many bacteria from the water, our high efficiency filters keep your pool water clean, clear and inviting. Choose from three different filter technologies—cartridge, D.E. or sand.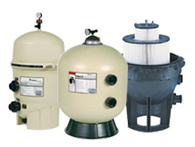 Jandy
For unsurpassed water clarity choose Jandy Diatomaceous Earth Filters. The Jandy DEV filter's extra large capacity extend cleaning cycles and reduce energy usage. Our easy-grip tank handles make installation and cleaning easy. One-of-a-kind pressure gauge/air release valve with built-in water saving Clean/Dirty indicator accurately tells you when the filter requires cleaning. We offer a choice of 48 or 60 square foot capacity models
Designed to easily connect with other Jandy Products via Jandy's exclusive Versa Plumb™ system.
Easy-grip tank handles
Combination pressure gauge/air release valve with Clean/Dirty indicator — reduces energy usage
Extra large capacity for extended cleaning cycles — reduces energy usage
Attractive, compact design fits easily into small plumbing configurations
Tough, UV and corrosion-resistant, thermoplastic tank
Heavy duty, rigid tank clamp
Accommodates three types of valves; multiport valves, slide valves and the Jandy NeverLube
Backwash ValveAutomatic internal air relief
Industry standard, curved grid design maximizes surface area
Pumps – Move water from pool to filter
Hayward™
Hayward™ pumps are dependable and engineered for performance. Recognized as the industry leader, our line of high performance pumps lead the pack in energy efficiency. NSF® and UL® rated, we engineer our products with components molded of corrosion-proof reinforced thermoplastic for extra durability and long life. Our pumps are equipped with heavy-duty motors for cool, quiet, efficient operation. All of our pumps are engineered and designed to stand-up to today's most demanding installations, setting a new standard of performance for swimming pool pumps.

Pentair Pumps
Reliable, durable pumps for inground pools
Our 1- and 2-speed circulation/filtration pumps for inground pools are engineered and manufactured to the highest standards of precision and quality for safe, dependable, and long-lasting operation. And, with new technology incorporated, many are whisper quiet. Talk to your pool professional to choose the pump model and size that will efficiently meet the specific requirements of your pool.
Eco Select Choices
Standard pool pumps can consume as much energy as all other home appliances combined! IntelliFlo® and IntelliPro® variable speed pumps can typically cut energy costs by 30% or more!


Automatic Pool Cleaners
POLARIS 360
Our most advanced pressure-side automatic pool cleaner that operates without a separate booster pump. The Polaris 360 easily connects to a dedicated pressure line and is suitable for all in-ground pools. It sweeps, scrubs, and vacuums all surfaces of the pool. It also traps large debris like leaves and pebbles in its own filter bag.

LOOP-LOC
Built super-strong and securely anchored into the deck, LOOP-LOC puts an unbreakable "lock" on your pool to protect your family. Only LOOP-LOC comes with the patented SAFEDGE® and GAPGUARD® Child Safety Intrusion Barrier. It closes the dangerous gaps created where raised obstructions meet the cover's edge, so there's no way children or pets can slip through! Only A LOOP-LOC Performs Like A LOOP-LOC! Here just a few of the reasons why:
The polyester bonded thread used in LOOP-LOC covers costs almost 10 times more than that used by some of our competitors.
Double perimeter webbing and double-thick straps give our covers an incredibly high break strength.
We use extremely high-strength, non-corrosive 302 grade stainless steel springs for superior weight-bearing capacity.
We sew the webbing to the cover using contrasting white thread, instead of black, to ensure that not a single stitch is missed.
We use 87% black yarn in our fabric for superior UV stability.
Chafe strips are manufactured with exclusively virgin material – not "regrind," which tends to stain decking.
Non-corrosive aluminum tips are double-notched for stability.
The large X-tacking on LOOP-LOC straps is sewn manually for precise placement and maximum strength.