Tamm's Pools, Inc. offers several plaster options for your pool restoration. We offer white and colored plaster and specialize in exposed quartz aggregate plaster finishes. An exposed quartz aggregate surface consists of quartz crystals that have been added to white cement. It is extremely durable and is offered in a diverse variety of colors and shades.
White Plaster
White plaster is one of the most common pool finishes. We combine white Portland Cement and Marble Sand with water to create the plaster for the pool's finish.

Tinted Plaster
We offer tinted plaster where you can customize the color of your plaster. Different colors will enhance the appearance of your pool. Please contact us for additional information.


Quartz Aggregate
The Quartz Aggregate is a pre-blended mixture of 3M Color & White Quartz, white Portland Cement and polymers. It comes in 15 different standard colors.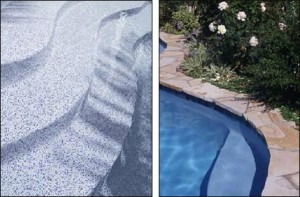 Exposed Aggregate Sample Finishes